B2B lead generation has become a crucial issue for companies. It's not just about getting visitors to a website. No, it goes far beyond that. Indeed, companies need to adopt a relevant commercial strategy that consists in attracting the attention of a potential customer or prospect on their products or services. So how to generate B2B leads? First of all, a company needs to understand what a lead is. Once this concept is well understood, the company must generate these leads to grow and stand out from the competition. To do this, it will use marketing and web marketing tools that it has at its disposal. Let's take a closer look at the actions to be taken to generate B2B leads.
Definition of a lead
A lead is in fact a person who has expressed his opinion or interest in a product or service of your company without any canvassing. This person can come from a direct contact during an event like a trade show or a point of sale. But generally, a lead is more likely to come from a website or social networks.
Therefore, a lead represents a commercial lead to explore in order to increase the performance of your company.
What is lead generation?
B2B lead generation is one of the first steps of inbound marketing. Its role is to attract the attention of your visitors to seduce them and make them want to share their data with you.
Today, the role of the salesperson has changed, and it is far from the time when the latter went to meet potential customers to present his company. With the development of the Internet, buyers can now analyze and compare the different offers themselves. It is therefore often the buyer who makes the first step towards your company.
As your customers have changed their way of buying, lead generation becomes essential in B2B. You can therefore directly use the web to establish a lead generation strategy.
What is the life cycle of a lead?
Understanding the life cycle of a lead is important, not only for the sales and marketing teams but also for the company's management. It will help to define and prioritize your sales strategy.
At first, your visitors have shown an interest in your company. They are slowly starting their buying journey. Once they start giving their email address or engaging in an action such as signing up for your newsletter, the visitor becomes a lead.
A lead therefore follows several stages. Here is its typical life cycle:
The Lead = he has, for example, filled in a contact form with his details or downloaded one of your contents.
The Marketing Qualified Lead (MQL) = this is the prospect qualified by marketing and considered to be hot because he regularly returns to your products or services.
The Sales Qualified Lead (SQL) = the prospect is called or contacted by the sales team who qualifies him as being interested in your offers.
Sales opportunity = the prospect has expressed interest in your commercial offer, a quote. He is in active communication with your sales team.
The Customer = you have made the sale and the prospect has become a customer.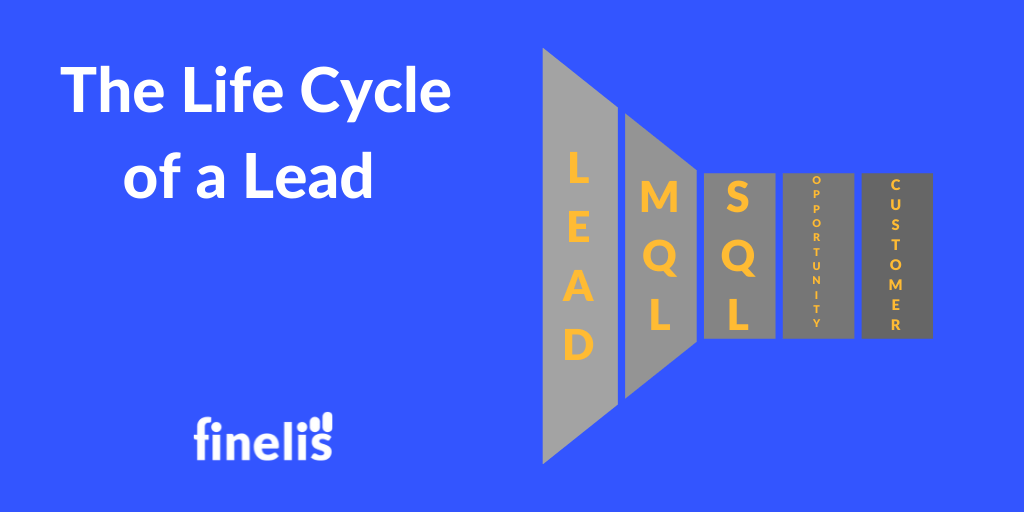 The importance to know your typical customer to generate B2B leads
Before launching a strategy to generate B2B leads, it is essential to know your buyer persona well. This method consists in visualizing your future buyers in a concrete way through the creation of a typical profile. You will build your persona from several characteristics: age, professional situation or education, interests and habits. Then, you will make sure to immerse yourself in their daily life in order to determine the best time to broadcast your content.
The persona needs to be examined in more detail
Once you have the basic description of your ideal customer, you will need to know their motivations and objectives. This is how you will identify your target's problems and understand why your customers need your service.
Here is an example of questions to ask yourself to structure your persona analysis:
What does your prospect think?
What actions has he taken?
What are his obstacles?
How does he realize that he has reached his goal?
Once you have conducted this study, you will be able to align your sales and marketing departments. You will then be able to focus your business strategy on people who could really be interested in your products or services.
 To go further: How to create buyer personas?
Your website: a powerful way to generate B2B leads
Your company's website is more than just a showcase for your products and services. It also allows you to articulate your digital marketing strategy and measure its performance. It is in fact a real communication tool that offers sales opportunities as well as lead generation. Increasing the visibility of your company is therefore essential to maximize your results.
Increase your visibility with a company blog
Today, having a website is certainly essential, but it is not enough. Indeed, if it is not regularly updated, you risk being forgotten by search engines. Also, in order to position your company as an expert in your field and increase its visibility on the web, you will need to create a company blog. Without it, you won't be able to bring traffic to your site.
To go further: Why you should invest in a corporate blog?
Organize events to gain notoriety
In a world where competition is fierce, companies must constantly reinvent themselves to stand out. By creating different types of events, you will be able to promote your products and services in an original way and always close to your potential customers. By making an impression, you will encourage your prospects to take action. It is up to you to choose the theme and the format that suits both your company and your prospects. These can be classic events or webinars. A monthly event like this can quickly increase your brand awareness.
Improve conversions on your website
On all the actions that you are going to carry out on your website or another support, do not forget to add what is called CTA (call-to-action) so that your visitors are transformed into leads. Take care to place them strategically to increase your conversion rates. The more visible and accessible the call-to-action is, the more likely it will be clicked!
Once you have worked on your visibility to your prospects, the next step is to convince them that your company provides the solution to their problems.
As a prerequisite for the lead generation strategy, it is therefore recommended to set up quality content. Content is indeed an excellent instrument to seduce them and get their attention.
The creation of high value-added content
With the number of contents published on the web, your company will have to make the difference if it hopes to make a place among its competitors. The originality and the relevance of the contents used to bring your expertise will make you stand out. Moreover, the more you value the user experience, the more the search engines will propel your site to the top of their pages.
Your expertise at the service of your readers
Any free advice is welcome to generate leads. Not only will your company gain visibility but also credibility. Even if Google is one of the most effective channels for lead generation, it is important to vary your communication media. The most important thing is to show prospects that your company is there to help them solve their problems in a quick and easy way.
Offer downloadable documents
So how to generate mature leads? If your prospects value your advice, set up downloadable materials that allow you to harvest their data in return. This can be in a variety of formats such as ebooks, white papers, guides. Let your imagination run wild, but always with your prospects' problems in mind.
Use the power of networks to distribute your content
To offer these documents, you have a variety of means at your disposal. You can use anchor links on your company blog, send emails to your database or use advertising on your social networks.
When you create relevant content, it is important to share it on your social networks. Of course, when it comes to B2B leads, the Linkedin network is the best place to be.
To go further: Why use LinkedIn for your business?
Advertising: a force to be visible to your prospects
There are many ways to advertise on the internet. You can for example use advertising campaigns like Google Ads, Facebook Ads or LinkedIn Ads. Of course, you will have to spend a certain budget to pay for the sponsored campaigns.
In practice, you will have to identify your target audience and choose a suitable content to attract your target. There is no need to aim at a maximum number of users. Your campaigns will be much more effective if you address those who have a potential interest in your services.
Generating B2B leads is important for your business. But if you can't convert them, it won't do you much good. So to ensure that your B2B lead generation strategy delivers a significant return on investment, we advise you to anticipate how you will manage these leads and convert them into customers.
Need help with this?